Harker Speaker Series
The Harker Speaker Series (HSS) was launched in 2008 to bring in leaders and visionaries from a wide variety of fields to share their expertise or unique experiences with Harker parents, faculty and students as well as the greater community. For more information, contact communications@harker.org.
We have exciting construction continuing this school year on our upper school campus; our new athletic center opened Aug. 18 and our new performing arts center will open in early February. During the construction time we will be suspending the Harker Teacher Institute, Harker Concert Series and Harker Speaker Series, but we look forward to continuing them in our wonderful new spaces.
Denis Belliveau - Filmmaker, Author, Explorer "In the Footsteps of Marco Polo"
Some people dream big dreams. Only a few bold adventurers live them. Author, explorer and filmmaker Denis Belliveau shared stories and images from his two-year odyssey retracing Marco Polo's entire 25,000 mile, land-and-sea route from Venice to China and back, a journey he fully documented in the Emmy-nominated film "In the Footsteps of Marco Polo." The audience relived the highs and lows as Belliveau and his companion ventured on foot, horseback, camelback, in jeeps and trucks and boats and trains, surviving deadly firefights and capture in Afghanistan, the forbidding sands of the Taklamakan Desert and numerous interrogations from authorities threatening to derail their plans.
Marco Polo's world came to life through ancient lands and cultures, from the timeless camel caravans on the famed Silk Road to the expert horsemen of Mongolia and the tattooed tribes of Indonesia.
Brimming with adventure, history, art, and no small amount of humor, "In the Footsteps Of Marco Polo" is a deeply enriching educational experience that audiences will not soon forget. Screen the full film.
Dennis McNally — Jack Kerouac, The Beat Generation and America
Dennis McNally is an author, historian, music publicist, and one of the finest cultural historians of our time. His landmark work, "Desolate Angel: Jack Kerouac, the Beat Generation, and America," launched him, as a Ph.D. student, into a lifelong engagement with the history of American cultural freedom.
As a result of "Desolate Angel," McNally was invited by Jerry Garcia to be the Grateful Dead's official historian, becoming the band's publicist in 1984 during the band's cultural renewal in the '80s and '90s. McNally went on to publish "A Long Strange Trip: The Inside History of the Grateful Dead," and "On Highway 61: Music, Race and the Evolution of Cultural Freedom," bringing him back to his roots as a cultural historian.
Dr. Kakenya Ntaiya
The Harker Speaker Series proudly presented education activist Kakenya Ntaiya, whose childhood dream of attending college led her to an inspiring life of service and advocacy.
Toshio Tanahashi, Shojin Chef
Chef Toshio Tanahashi has been featured in Vogue Nippon, The New York Times and The Japan Times and has written two books on Shojin cuisine.
Rick Steves
Rick Steves discussed his book, "Travel as a Political Act," and talked about the ordinary people he has come across in his travels across Europe, Latin America, North Africa and the Middle East, where he has learned about tolerance and cultural diversity, always seeking a fresh perspective as an American and a citizen of the world.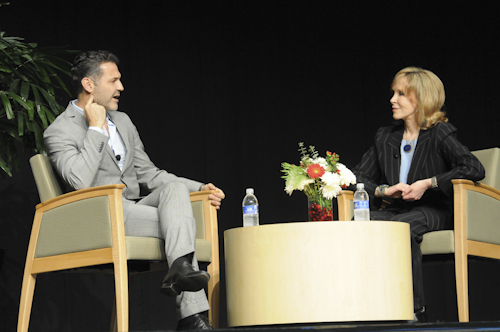 Khaled Hosseini with Cheryl Jennings
Khaled Hosseini, the Afghan-born best-selling author of "The Kite Runner" and "A Thousand Splendid Suns," spoke with ABC7's Cheryl Jennings about the writing process, his experiences in Afghanistan and his humanitarian efforts with the Khaled Hosseini Foundation.