Harker Speaker Series
The Harker Speaker Series (HSS) was launched in 2008 to bring in leaders and visionaries from a wide variety of fields to share their expertise or unique experiences with Harker parents, faculty and students as well as the greater community. For more information, contact communications@harker.org.
The Muwekme Ohlone Tribe
Moving Past Federal Recognition - A Call to Action
Thurs. Nov. 2, 2023 - 7-8:30 p.m. | Rothschild Performing Arts Center | 500 Saratoga Ave., San Jose
Join an expert distinguished panel of scholars and Charlene Nijmeh, chairwoman of the Muwekme Ohlone tribe, as they discuss the tribe's struggle for federal recognition, repatriation of ancestral remains, gentrification, and education opportunities for tribe members.
Join Charlene Nijmeh, chairwoman of the Muwekme Ohlone tribe, and an expert distinguished panel of scholars.
Attendance is free, but please RSVP.
Previous Speakers Include: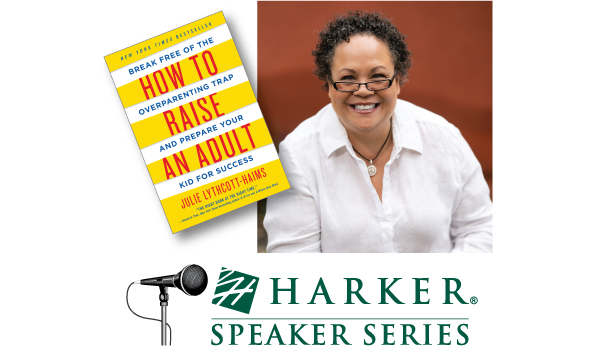 Julie Lythcott-Haims – Author
The Harker Speaker Series is proud to present renowned author Julie Lythcott-Haims, who will discuss her book, "How to Raise an Adult." Learn more about Julie Lythcott-Haims.
Magdalena Yeşil - Investor, Entrepreneur, Author
Pioneering entrepreneur and investor Magdalena Yeşil came to the United States in 1976 with two suitcases and $43, blind to the challenges she would face as a woman and immigrant in Silicon Valley. Today, she is best known as the first investor and a founding board member of Salesforce, the now-multibillion dollar company that ushered in the era of cloud-based computing. Yeşil is a former general partner at U.S. Venture Partners, where she oversaw investments in more than 30 early-stage companies and served on the boards of many. A technology pioneer, Yeşil founded three of the first companies dedicated to commercializing internet access, e-commerce infrastructure and electronic payments. Yeşil was interviewed on stage by a Harker business & entrepreneurship student.
Dennis McNally — Jack Kerouac, The Beat Generation and America
Dennis McNally is an author, historian, music publicist, and one of the finest cultural historians of our time. His landmark work, "Desolate Angel: Jack Kerouac, the Beat Generation, and America," launched him, as a Ph.D. student, into a lifelong engagement with the history of American cultural freedom.
As a result of "Desolate Angel," McNally was invited by Jerry Garcia to be the Grateful Dead's official historian, becoming the band's publicist in 1984 during the band's cultural renewal in the '80s and '90s. McNally went on to publish "A Long Strange Trip: The Inside History of the Grateful Dead," and "On Highway 61: Music, Race and the Evolution of Cultural Freedom," bringing him back to his roots as a cultural historian.
Dr. Kakenya Ntaiya
The Harker Speaker Series proudly presented education activist Kakenya Ntaiya, whose childhood dream of attending college led her to an inspiring life of service and advocacy.
David Amram - Composer, Musician, Author
David Amram's almost 70-year-long career, still going strong, reads like a who's who of music history, including collaborations with Jack Kerouac, Leonard Bernstein, Thelonious Monk, Johnny Depp, Hunter S. Thompson, Dizzy Gillespie, Bob Dylan, Willie Nelson, Betty Carter, Arlo Guthrie, Pete Seeger, Tito Puente and more. Amram is equally at home in the classical and film genres, working with many symphony orchestras and scoring the films "The Manchurian Candidate" and "Splendor in the Grass." This treasure of American music was interviewed on stage by historian Charles Shuttleworth and sat in with and conducted Harker instrumental ensembles. Amram's sharp wit, incredible stories and unique outlook on today's music industry provided an entertaining evening like no other.
Denis Belliveau - Filmmaker, Author, Explorer "In the Footsteps of Marco Polo"
Some people dream big dreams. Only a few bold adventurers live them. Author, explorer and filmmaker Denis Belliveau shared stories and images from his two-year odyssey retracing Marco Polo's entire 25,000 mile, land-and-sea route from Venice to China and back, a journey he fully documented in the Emmy-nominated film "In the Footsteps of Marco Polo."
Brimming with adventure, history, art, and no small amount of humor, "In the Footsteps Of Marco Polo" is a deeply enriching educational experience that audiences will not soon forget. Screen the full film.
Toshio Tanahashi, Shojin Chef
Chef Toshio Tanahashi has been featured in Vogue Nippon, The New York Times and The Japan Times and has written two books on Shojin cuisine.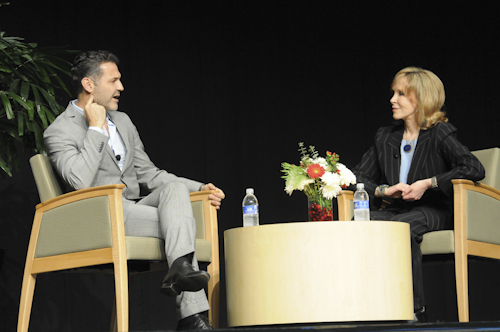 Khaled Hosseini with Cheryl Jennings
Khaled Hosseini, the Afghan-born best-selling author of "The Kite Runner" and "A Thousand Splendid Suns," spoke with ABC7's Cheryl Jennings about the writing process, his experiences in Afghanistan and his humanitarian efforts with the Khaled Hosseini Foundation.
Rick Steves
Rick Steves discussed his book, "Travel as a Political Act," and talked about the ordinary people he has come across in his travels across Europe, Latin America, North Africa and the Middle East, where he has learned about tolerance and cultural diversity, always seeking a fresh perspective as an American and a citizen of the world.